Weapons of the Spanish Civil War
Weapons of the Spanish Civil War
Weapons of the Spanish Civil War
Following the assassination of the right-wing leader, Calvo Sotello, on 13 July 1936, military garrisons in Spain and Morocco under the control of right-wing National Socialists, rose in revolt against the government. The ensuing Spanish Civil War of 1936-9 served to lay bare the international political alignments of Europe and despite an international non-intervention policy, Germany, Italy, Russia and to a lesser extent France (early) gained valuable experience from supplying aircraft, military equipment and 'advisors'.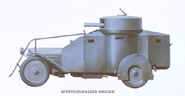 Free Tarot Readings by Alison Day
Mystic Realms has linked up with Lotus Tarot, probably the best Tarot Reading site on the internet today.